In the last couple of years the choice of
colour of the year
has become an interesting theme in the world of design and fashion, but we are seeing many companies doing it and with different choices, of course. It happened also that they chose several colours or a palette of colours, which, according to me, could be good, if they were not so numerous :) So, now I am glad to share the single
Colour of the year 2018
announced by
Benjamin Moore -
a beautiful red named
Caliente AF-290: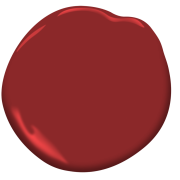 "

NOSTALGIA gives way to fresh, energetic hues..."
"Caliente is the signature color of a modern architectural masterpiece; a lush carpet rolled out for a grand arrival; the assured backdrop for a book-lined library; a powerful first impression on a glossy front door. The eye can't help but follow its bold strokes. Harness the vitality."
—Ellen O'Neill, Benjamin Moore & Co.
How do you like it?
What do you think of these
so many trending shades for 2018? If you have not read about the other trending colours, read this article by
Domino
. What I consider worth following is a more general trend in interior design - like the pastels trend or the coppper trend, because they give you a more real information about what will be trending in the coming years. These are stable trends that have formed the design scene of the world for several years and for a very good reason - check my posts to see why.